American singer-songwriter Lenny Kravitz showed off his legs in female leather pants tucked into some women's high-heel boots. The 46-year-old Californian artist was photographed crossing the street in New York yesterday, in the Soho area. He also used an across-the-body man bag and tiny hoop earrings. Of course the Internet is laughing at this ensemble and making every "American Woman" joke possible.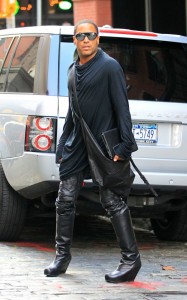 He put together a look lots of women would totally want to wear. We might just suggest he swap the pants for thick tights, and the knee-high boots for over-the-knee boots, which are much better suited to working on a street corner.
What do you think? Is this the next fashion trend for men or has he gone too far with his lady high heel boots?